Summary
REACH US SEA-CEED (South Eastern African American Center of Excellence in the Elimination of Disparities in Diabetes) aims to eliminate health disparities related to diabetes prevention and control by reducing risks and preventing complications of diabetes related to hypertension, stroke, and amputations in African Americans.
Building on the success of the REACH 2010 Charleston and Georgetown Diabetes Coalition, SEA-CEED is working to reach 1,750,000 African Americans, approximately 300,000 with diabetes in 121 counties in South Carolina, Georgia, and North Carolina with populations greater than 30% African Americans at risk and with diagnosed diabetes. The SEA-CEED community action plan addresses a geographic area with high burden and great disparity, builds on the success of previous REACH coalitions, capitalizes on a broad network of academic and community partners which have worked effectively with mutual respect, represents rigorous application of community based participatory action principles and evidence based guidelines, and works at the local, state, and multi-state levels, and with CDC and other CEEDs.
SEA-CEED is a network of coalitions and community partnerships that pools the abilities, expertise, and resources of numerous stakeholders to positively change community health. A community action plan is guided by a collaborative model, which stresses identification of change agents, involvement in health organizations and other community organizations, with a focus on policy and systems change to enable and encourage individual behavior change. Strong science is applied within a tailored and culturally appropriate community context. A logic model identifies levels of activity and change with parallel plans for monitoring achievement of multi-level of objectives. Within a ecological framework, SEA-CEED applies concepts from the Chronic Care Model (information systems, decision support, delivery system design, self-management support).
One strategy used to affect change in community health outcomes, behaviors, and knowledge is to implement a sustainable reimbursable diabetes self-management training (DSMT) program and quality improvement plan in health systems. In addition, partnered organizations provide consistent, evidenced based, culturally tailored diabetes prevention, awareness, and self-management support programs that address outcome goals identified as priorities by the affected communities through a strategic planning process. Community coalitions and volunteers work together to improve community norms related to health care, adherence to medications, self-monitoring, and community knowledge of A1C, blood pressure, lipids, early signs of stoke, and healthy behaviors for diabetes prevention and control.
Successful and ongoing community and systems change, increased advocacy, and policy change strategies include intergenerational activities and community development strategies that will diffuse through Legacy Projects in South Carolina, Georgia, and North Carolina.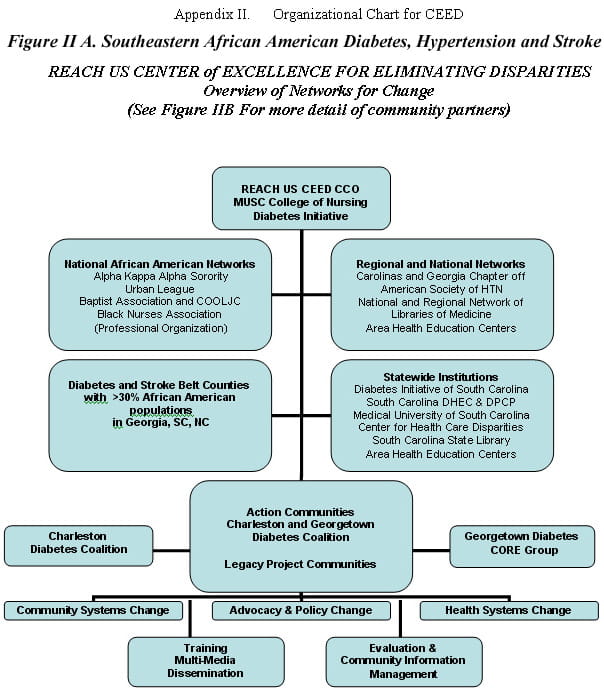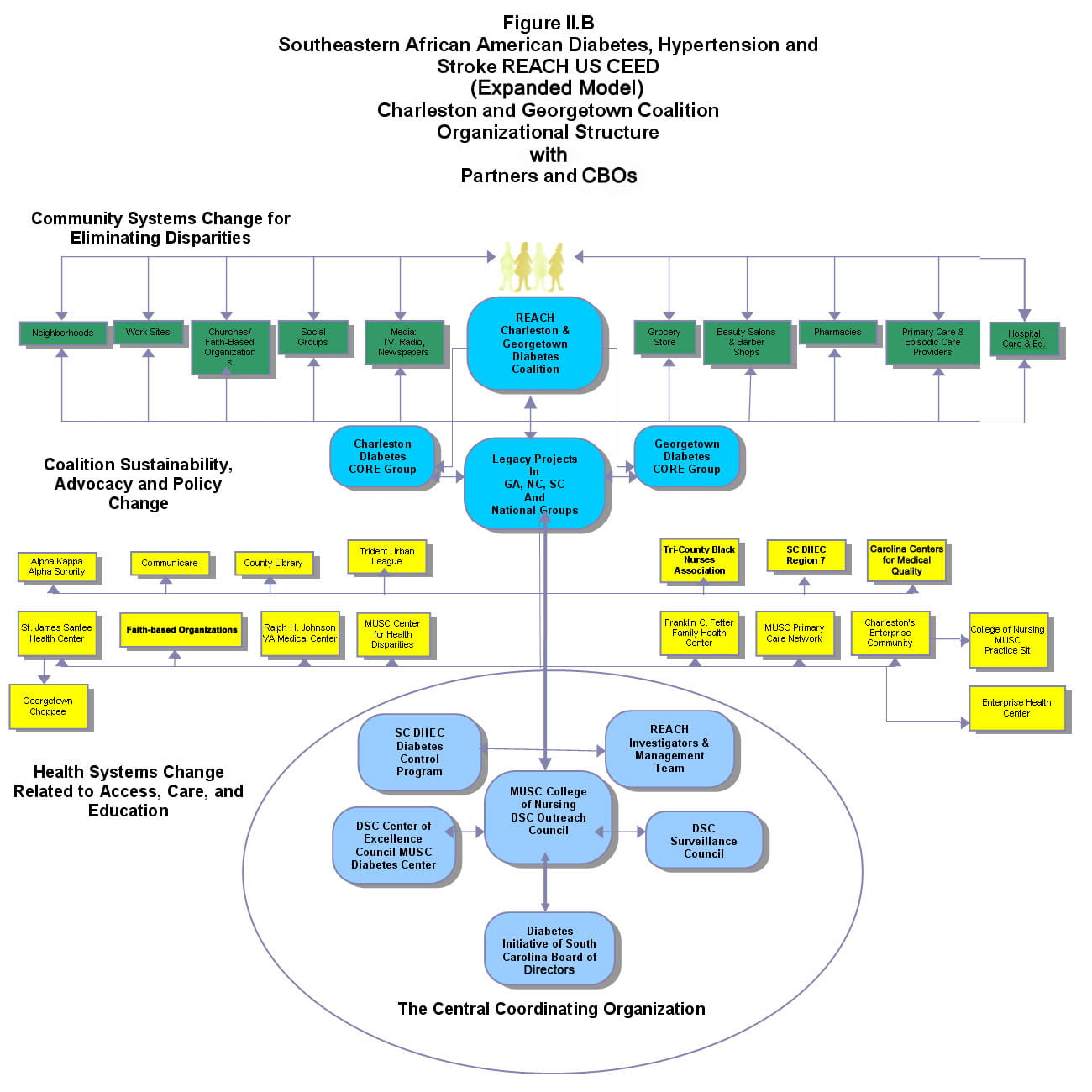 Mobilize, enable, and coordinate coalition(s) leadership to meet REACH US objectives 
Provide support for system changes in health organizations (HO) to meet REACH US objectives.
Organize, mobilize, enable, and coordinate systems change in community organizations (CO) to effectively work together to meet community-wide REACH US objectives.
Negotiate an evidence-based framework with Charleston and Georgetown Diabetes Coalition and the local coalitions for policy development to improve access to quality care, education, medication, supplies, and other environmental supports.
Reduce health disparities in African Americans at risk and with diabetes.
SEA-CEED interventions are organized as 3 components (health organizations, other community organizations, and coalition advocacy) with a focus on systems, economic access, education and policy change.
Guiding frameworks and Conceptual Model: The ecological framework links population health to individual, community, and environmental factors.1  Consonant with the ecological framework is our guiding conceptual model for intervention. Our model integrates the Community Assets2 and Chronic Care Model (CCM)3,4 and expands to explicate component parts for community and resource systems. (See Figure E.1) The community systems wheel5 identifies and categorizes different community organizations that can potentially influence program outcomes.  Adapting the CCM components to both health delivery organizations and other community organizations provides a common working framework to become more prepared and proactive for improving health.
The 4 component strategies are:
information systems include performance data related to desired outcomes, information to assist education, care management and serve as a rationale for systems and policy changes.delivery system design defines the team, their roles, methods for delivery, and changes that may improve the system related to delivery of services to clients.decision support includes guidelines for HCPs such as ADA Clinical Recommendations for care, education and continuing education of providers and change agents, and expert support.patient self management support includes education and activation, assessment of assets and resources for self-management, collaboration on decisions, and guidelines for clients.
The interaction of prepared proactive health and community organizations in Coalitions, catalyzed by identified change agents with state, regional, and national groups in partnership with people at risk and with diabetes will improve policies and community-wide outcomes. This will occur by balancing community action with good science.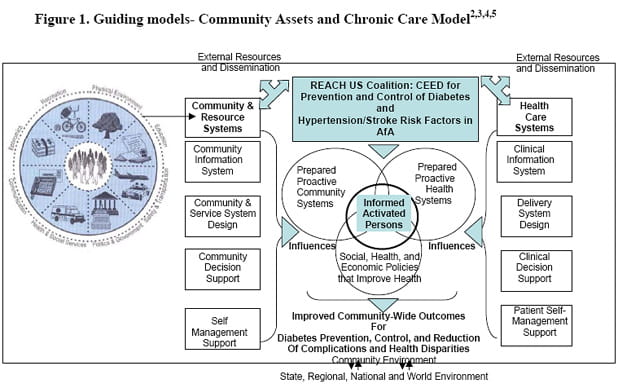 * For permission to use, contact: Carolyn Jenkins, DrPH, APRN-BC-ADM, RD, FAAN (model developer) email jenkinsc@musc.edu
References:
Institute of Medicine (2000) Promoting Health: Intervention strategies from social and behavioral research, Washington DC: National Academy Press.Kretzmann, JP and McKnight, JL. (1993) Building Communities from the Inside Out: A Path Toward Finding and Mobilizing a Community's Assets, Evanston, IL: Institute for Policy Research.Wagner EH, Austin BT, Davis C, et al. (2001) Improving chronic illness care: translating evidence into action. Health Affairs (Millwood) 20:64-78.Barr VJ, Robinson S, Marin-Link B, Underhill L, Dotts A, Ravensdale D, Salivaras S.   (2003) The expanded Chronic Care Model: an integration of concepts and strategies from population health promotion and the Chronic Care Model. Hosp Q. 7(1):73-82.Anderson, ET, McFarlane, J. (2000) Community as partner: Theory and practice in nursing. Philadelphia: Lippincott.