Visions & Traditions
College of Nursing Vision & Mission
Our Vision
The Medical University of South Carolina College of Nursing will be nationally recognized for taking nurses to a higher level of excellence in education, research and practice through innovative programs that are responsive to current and emerging healthcare challenges.
Our Mission
The College of Nursing supports the mission of the Medical University of South Carolina, an academic health science center. In an environment that is accountable, respectful, adaptive and innovative, the College is committed to
Providing evidence-based nurse education in an interprofessional environment
Developing, testing, and disseminating nursing knowledge in the health sciences
Demonstrating excellence in nursing practice that embraces equity and culturally effective care to patients, families, and communities.
Our Core Values
Professionalism is represented by the adoption of core values as part of a nurse's commitment to competency, consistency, compassionate practice, and the highest standards of care in the ethical conduct of nursing. The following are the core values shared by the faculty and reflected in the MUSC College of Nursing.
Scholarship: Scholarship is the discovery, translation, application, integration, and transmission of knowledge that contributes to the development of evidence-based nursing.
Life-Long Learning: Learning is a continuous, life-long process of involving, instructing, motivating, and changing students, faculty, staff, patients, and the community for the betterment of health and well being.
Diversity: Diversity is the recognition and inclusion of human variation in the education and care of individuals, families, communities, and nations. Nurses strive for equity and cultural effectiveness in health service access, content, and quality of care to improve health outcomes.Service: Service is a commitment to participate in organizational activities and processes that benefit the college, university, health care institutions, communities, and the profession. Service is viewed as essential to developing, maintaining, and sustaining the structure and relationships that are critical to the profession and that impact health care policy.
Caring: Caring is central to the health and healing processes, and is intrinsic in the therapeutic nature of person-centered care. Caring is predicated upon mutual respect and treating all persons in a just and unbiased manner.
Empowerment: Empowerment emerges as individuals develop the knowledge, attitudes, skills, and other resources they need to determine their own learning and health care needs. Empowerment is recognized by active participation and progressive responsibility in organizational activities, and through advocacy for actions directed at health policies, programs, and practices to secure the highest level of care, education, and research necessary for societal health and well-being.
Collaboration: Collaboration involves effective interprofessional teamwork and relationships based on trust, respect, shared resources, a commitment to joint goals, and mutual satisfaction, in which nurses work with and learn from individuals, communities, and colleagues across professions to deliver safe, quality care.
Integrity: Integrity refers to the quality of being honest and ethical and having the moral strength to do the right thing. The nurse incorporates this value in every aspect of one's personal and professional life, and in the care of patients.
History of the College of Nursing
Origin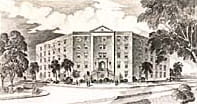 The College of Nursing at the Medical University of South Carolina had its origin in 1882 when the City Council of Charleston approved a request by the City Hospital for $2,000 to establish a "Training School for Nurses," The school was opened in 1883 and continued until the City Hospital was destroyed by an earthquake in 1886.
It was reestablished as "The Charleston Training School" in 1895. A two-year program of instruction was offered, with some lectures given by the Medical College Faculty.
From 1916 to the Present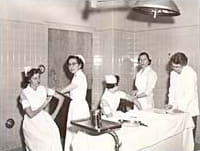 In 1916, the Board of Commissioners of the Roper Hospital proposed the incorporation of the Training School with the Medical College, and in 1919 the Roper Hospital Training School for Nurses became the School of Nursing of the Medical College of the State of South Carolina. Later the words "of the State" were deleted.
In September 1966, the school began the process of phasing out the three-year diploma program and establishing a four-year baccalaureate program.
In 1969, when the Medical College was designated as "The Medical University  of South Carolina" by the State Legislature, the school became one of the six  colleges comprising the University. In 1979, the College of Nursing began to offer a Master of Science in Nursing (MSN) program. In 1983 the College of Nursing celebrated one hundred years of nursing education and service to the citizens of South Carolina and the nation. The College of Nursing launched a Doctor of Philosophy (PhD) in Nursing in 2001, and a Doctor of Nursing Practice (DNP) Degree in 2009.  In 2008, the College of Nursing celebrated 125 years of nursing education and excellence (click to watch video), making it one of the oldest schools of nursing in the country.
Current Programs
The College of Nursing now offers programs of study leading to the Bachelor of Science in Nursing, the Master of Science in Nursing, the Doctor of Nursing Practice and the Doctor of Philosophy in Nursing Science. The baccalaureate program is campus-based, while all graduate programs are offered entirely online. The Colleges houses a state-of-the-science clinical simulation laboratory and the Center for Community Health Partnerships. In addition, the College has a robust research portfolio and a number of faculty clinical practice sites.
Preserving CON's Rich History
MEDICA is a publicly accessible digital repository of scholarly and historical materials relating to MUSC and the history of health sciences in South Carolina. MEDICA's collections include articles written by MUSC faculty, theses and dissertations written by MUSC students, and historical photographs and documents relating to the history of the health sciences.
The College of Nursing has already begun a historical collection. You can explore the collection.
Dr. Elizabeth Bear also has a collection focusing on the tradition of nurse-midwives in the South Carolina Lowcountry and other Southern states. It can be view collection.
The Stethoscope and White Coat Ceremony
Transforming Traditions in Nursing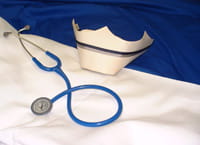 A nursing tradition was reborn at MUSC in 2002. It rekindled the fire that was originally lit by the lamp of Florence Nightingale by transforming the honor of nursing's traditional "Capping Ceremony" into a more contemporary and equally important event, as the baccalaureate students were recognized by the new tradition of a "Stethoscope Ceremony."
Most nursing faculty fondly remember the importance of their own "Capping Ceremony" - a time of recognition and reflection on the paths they were pursing in their chosen career. Yet times and norms have changed, and nurses stopped wearing caps years ago. Sadly, a ceremony celebrating this academic and professional milestone also stopped, as nurses became focused on trying to meet the demands of their stressful work and school environments.
In a renewal of these values and this rite of passage, the MUSC faculty decided to use the power of the stethoscope and words from their colleagues to connote this same tradition of welcoming students into the family of nursing. The campus chapel, with candles flickering and organ music softly playing in the background, captures the air of expectancy among students, families and faculty. In a formal ceremony, the entering baccalaureate students are presented with a stethoscope as a tangible tool of their profession and listen to words of inspiration about the career they have chosen for their life's work. And so a new tradition was born.
In 2014, a gift from the Arnold P. Gold Foundation allowed the College of Nursing to expand this ceremony to include a White Coat Ceremony and the presentation of a Humanism in Medicine Lapel Pin to the incoming Accelerated Bachelor of Science in Nursing students. Students wear their white coats, recite the Nightingale pledge and are presented with a lapel pin that symbolizes the behaviors between nurses and patients that is respectful and compassionate. It signifies attitudes that are sensitive to the values, autonomy, cultural, and ethnic backgrounds of others.
Interested in learning about what happened to the cap? Read this article from Medscape Today: The Dawn of the Cap
College of Nursing Philosophy
The College of Nursing, one of six colleges of the Medical University of South Carolina, is responsible for the education, research, and practice of nurses in an interprofessional health sciences environment. The philosophy of the College of Nursing embodies the concepts of nursing, health, person, and environment, within education, research, and practice. The faculty believes that the discipline of nursing is both an art and a science.
Nursing, interpersonal and caring in nature, encompasses the promotion of health, the prevention of disease and injury, and the diagnosis, support, and treatment of human responses to actual or potential health problems. The domain of nursing is based on the synthesis of biological, behavioral, social, cultural, and nursing sciences, with the focus on populations across the life span to maximize their potential for optimal health. As a practice discipline, nursing permits its members to enter and improve the lives of individuals, families, and communities for purposes of healing, learning, and adaptation. Nursing practice is dynamic because it grows continually through interpersonal connections with health care research, education, quality improvement, and advocacy. Operating within professional value systems and ethical frameworks, nurses work independently and collaboratively and assume accountability and responsibility for the delivery of evidence-based, cost effective nursing care. Nurses incorporate the concept of diversity in practice and in relations with the communities they serve and their fellow workers. Nurses realize human differences require continual investigation, learning, critical self-reflection, and change for people to achieve full access, inclusion, equity, and participation in human relations, education, and health care.  Nurses recognize human communication as the mutual negotiation of ideas, meaning and understanding for health and human purposes. This mutual exchange can be influenced by social contexts, cultural beliefs, habitus, affiliations, and experiences.
Health is a dynamic state of being in which a person's biologic, developmental, and behavioral characteristics are maximized. Each human being possesses strengths and limitations resulting from the interaction of environmental and genetic factors, which determine the person's biological and behavioral integrity. Health promotion is the science of helping people change their lifestyle within their sociocultural contexts and environmental conditions to move toward a state of optimal health. Health promotion is an interpersonal process and an intrapersonal product. As an interpersonal process, health promotion motivates persons and communities through the provision of education to adopt positive attitudes and behaviors that will assist persons in attaining their optimal health. As an intrapersonal product, health promotion assists persons and communities to incorporate knowledge, attitudes and behaviors that maintain wellness within the cultural frameworks and social conditions in which they make decisions.
Persons are holistic, social, and culturally diverse beings with integrated body, mind, and spirit, existing within the context of families, groups, and communities. Each person is unique, has dignity and self-worth, has the potential for change, and has the right to self-determination. A person has an inherent capacity to grow and develop throughout the life cycle. As unique individuals with different capacities and vulnerabilities, each person has the potential to affect their human responses and health outcomes.  A person has the right to access, fair representation, equity, respect, and participation in health services.
Environments have an impact on the health, availability of services, and quality of care of individuals, families, groups, and communities.  Environments include the natural, institutional, man-made, and physical arrangements in which a being operates. Each person and community exists within an ecological balance that influences human well-being, while at the same time human decision-making affects the health of environmental systems. Nursing interventions are directed toward creating, modifying, and enhancing environments to promote optimal health.
Learning is an active, life-long process of acquiring and integrating new information and insights that build upon previous knowledge. The faculty facilitates learning environments in which students assimilate and apply scientific and humanistic knowledge and experience, and develop self-awareness, self-direction, creativity, and critical thinking. Students are accountable and assume responsibility for their own learning by engaging in ongoing independent, self-directed learning. The faculty is responsible for providing a respectful environment conducive to learning and to serve as role models of professional nursing practice. The faculty believes that collaboration with other health care professionals, consumers, and communities is essential to teaching, learning and providing health care in a changing society.
Research, a systematic process of creating, evaluating, disseminating, translating, and utilizing knowledge, is critical to the development of nursing as a scientific discipline, and includes clinical research, epidemiology, public health, social science, health systems and outcomes research, and nursing education research. Nursing research focuses on "the understanding and easement of the symptoms of acute and chronic illness; prevention or delayed onset of disease or disability, or slowing the progression thereof; finding effective approaches to achieve and sustain optimal health; and, improvement of clinical settings in which care is provided (NINR, 2003)." Nurses may engage in a variety of research approaches within health and human service and human science dimensions. The integration of research into practice involves the pursuit of quality improvement in practice to improve health outcomes, the use of evidence-based guidelines and the highest level of evidence, and a systematic approach to evaluate safety, behavior change, and quality of care. Â Research informs practice and practice informs research.
Nursing practice involves the care of patients, families and communities. Additionally, it is the clinical laboratory for student education, faculty enrichment, and clinical research. Nursing practice occurs within multiple settings in health care institutions and the community. It encompasses the care of individuals, families, groups, and communities across the lifespan. Nursing promotes wellness, prevents illness, restores health, and facilitates adaptive coping. Professional nurses provide services independently and in teams with other health care providers and consumers of health care. Academic faculty practice fosters improvement in information management, synthesis and application of knowledge, evidence-based outcomes and changes in nursing and health care services and policy.